Mogul Ski World - Global Family Snow Travel Experts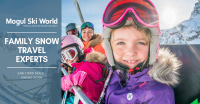 Mogul Ski World is a team of leading global snow travel experts who work closely with you to create incredible snow holidays for your family. With access to exclusive offers and packages, Mogul Ski World knows the best family resorts, fun family runs, ski school programs and kids' activities, family friendly dining spots and places to stay.
As extensive snow travellers themselves, Mogul Ski World's passionate advisors have all the local insights and access to enticing Early Bird deals.
With exclusive Early Bird deals and free cancellations up until August 31, 2020 now is the time to book your next snow holiday with confidence through Mogul Ski World.
View Mogul Ski World's latest family snow holiday specials here: https://mogulski.com.au/destinations/specials
For more details, contact our team today on 1800 335 724 or via email
EXCLUSIVE: Victorian Interschool's Discount
To celebrate our partnership with the Victorian Interschool's Snowsports Championships, we are extending an additional 5% off all new snow holiday accommodation packages to USA and Canada, booked before Aug 31, 2020.
**Simply quote the code 'Interschools5' on booking to enjoy an additional 5% off your 2020/21 North American snow holiday.
For more information or to view our current specials see links below;