School season membership offer date extended to May 31st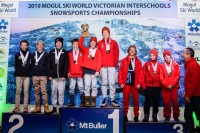 Buller Ski Lifts in conjunction with Buller Holidays offers the extension of the 'Kids Festive Bird Membership' sale price of $549 to bonafide Victorian primary and secondary school students. The School must agree to the terms and conditions, and provide Buller Holidays with a signed agreement prior to receiving application forms to disperse to parents. All student applications must be submitted no later than the 31st of May, 2020.
Please contact your school coordinator to register your interest or contact Buller Holidays at schools@bullerholidays.com.au for more information.