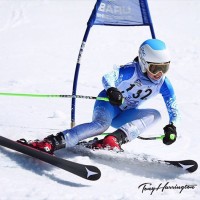 The Photo Shop is the official and exclusive photo service at Mt Buller.
A highly skilled team of professional photographers are on every race course, every day during Interschools capturing all the action and race moments.
Put your phone down, enjoy the action, cheer on your racers and let the professionals get the shots for you!

Led by Tony Harrington, official Olympic and World Cup photographer. Tony has over 200 front covers and 30 years' experience working with the best athletes in and around the world.
Sharing your Interschools memories is easy with all the images from every race loaded to The Photo Shop website daily.

Chill out on the couch and browse your shots, order online and get digital images emailed to you. The Photo Shop team edit each image to make it sharp and bright before they email the final file to your inbox.
Want prints? They can do that too and have prints available for delivery in resort during the event or mailed to you at home.
Take your epic race shot and create photo galleries for the lodge wall, build an historic collection for the school, create framed prize presentations or simply pop it on a screensaver.
Check out your race shots at www.photoshopmtbuller.com.au and browse back through the years for previous events – they are all online.
SCHOOLS, CLUBS AND GROUPS – PACKAGE AND SAVE
Plan ahead and The Photo Shop will not only shoot your race, training or special event they can bundle a deal so your organisation has shots for the collection and your members can access their images at a group discount.
Book a shoot and ask about our packages - photos@photoshopmtbuller.com.au or call Tony on 0427 427 761
BOOK YOUR OWN PRIVATE SHOOT
The Photo Shop offers private photo packages for everything from family photo sessions, action shoots, group photos and more. Tailor a shoot and package to suit you.
GREEN SCREEN BOOKINGS
Make your next event a lot more fun with a green screen photo booth – put yourself in the picture and package up a fun party package for your guests to take home great photos in incredible settings.
Book it in - photos@photoshopmtbuller.com.au or call Tony direct on 0427 427 761