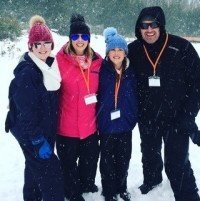 How your donations are helping families in Victoria
"When our 11-year-old daughter was diagnosed with Hodgkin's Lymphoma Camp Quality were quick to reach out to our family and offer their support. We became part of the Camp Quality family. We were so excited to be invited to take part in the Camp Quality Snow Camp. Olivia had just finished her chemotherapy and radiation treatment and was gaining her strength back, we thought this was a perfect opportunity to spend time as a family and have a weekend of fun together with other families going through the battle of childhood cancer. It was a chance to forget about hospital and tests. Camp Quality took care of everything from accommodation, meals, snow gear and transport. We had a blast tobogganing, making snowmen, snow tubing and playing laser tag. In the evening it was a chance to have a delicious meal with the other parents whilst the kids watched a movie under the care of the amazing Camp Quality volunteers. Snow Camp was so much fun for our family during a time in our lives where there wasn't too much fun, we thank you Camp Quality for giving us this weekend together because laughter really is the best medicine!" Christine, Camp Quality mum
Please help us reach our goal of $37,500 by donating through the link below
https://fundraise.campquality.org.au/interschools-snowsports-fundraiser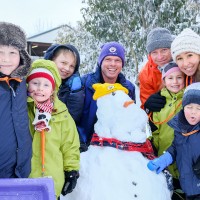 Victorian Interschools Snowsports Family Camp Fundraiser
Help CAMP QUALITY fund a FAMILY CAMP and give families impacted by cancer a chance to laugh and create fun memories in the snow!
Please help us reach our goal of $37,500 by hosting an event at your school or business or by making a generous donation through the link below.
https://fundraise.campquality.org.au/interschools-snowsports-fundraiser
Camp Quality gives kids facing cancer the chance to be kids again. Our services and programs are made specifically to help children 0 -13 who are dealing with their own diagnosis, or the diagnosis of someone they love, like a brother, sister, mum or dad. We are there for them through the daily ups and downs of cancer, providing opportunities to laugh, make friends and have new adventures. In 2018 Camp Quality raised funds to ensure over 8,000 kids who were registered for our services and programs had the chance to just be kids again
Family Camps are an opportunity for families to reconnect with each other and make new connections with families in a similar situation. This builds their tool kit of resources for the ongoing experiences they face and can create lifelong friendships. It is an opportunity to relax and make memories not centred on sickness -often for the first time since a diagnosis.
Camp Quality is proud to be the community partner of the Victorian Interschools Snowsports Championships. Together our aim is to Sock it to Cancer!
We need your help to support kids and their families impacted by cancer. Following a cancer treatment which often includes a lengthy stay in hospital, kids often return to school looking different and at risk of bullying and exclusion.
The Camp Quality primary school education program is a free service that helps create an inclusive community, ensuring their peers are understanding and supportive of their cancer experience. Many students are also facing the diagnosis of a parent or carer and need information and reassurance. So, they need our help!
Let's come together on the slopes of Mt Buller during the Championships, colour our feet with odd and brightly coloured socks and with a gold coin donation, raise some much-needed funds so together we can address the misconceptions of cancer that causes so much fear and social isolation for young people.
To find out more about our Education Program and our amazing puppets: Kylie, Mel & Dean, visit our website here.
Thank you in advance for supporting us, it means so much when young people can support other young people. See you on the slopes of Mt Buller.